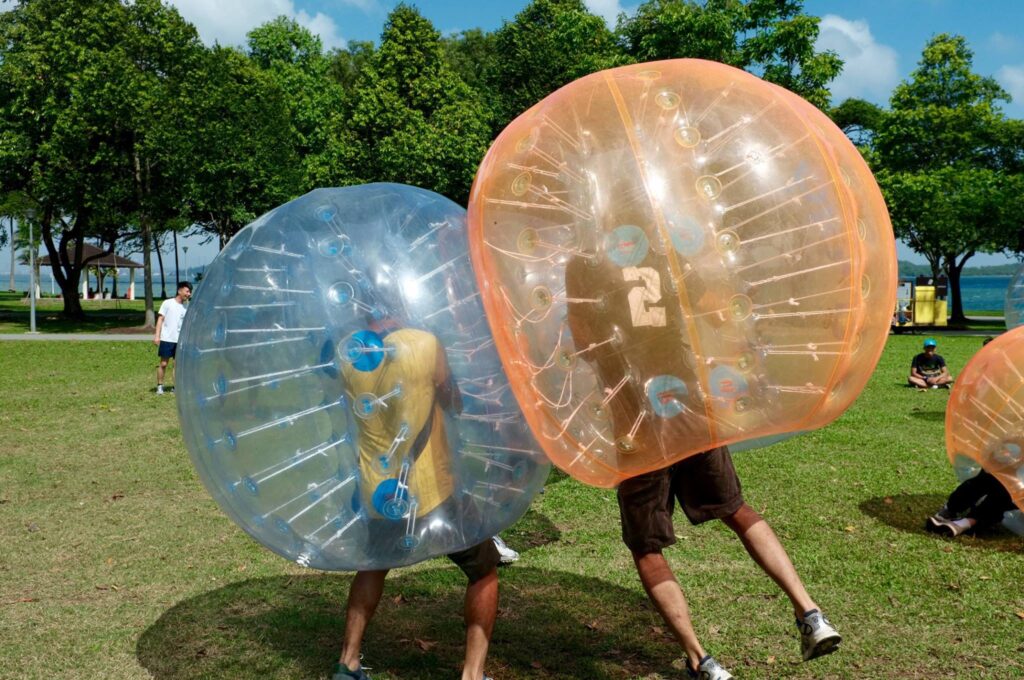 Suit up and get ready for action! Bounce off, bounce on, bounce into, bounce away in our bubble suits and have a bubble bumping good time with your family and friends! Bloop Bubble Soccer has been one of our popular party requests, it cater to all age groups and you can choose whether you'd like to have the games indoors (at a futsal court) or outdoors (on an empty field).

Once inside our Bloop bubble suit, your body is protected and you are practically invincible – run head-on into your friends (also Bloop-ed of course) and send them flying in the opposite direction! Want some crazy fun and laughter at your next birthday party? We promise Bloop will deliver just that!

Our Bloop Rental Package allows for a free and easy casual birthday party experience with the option of including trained facilitators to plan games and organize the flow of your party.
Here's some of the games you can choose to play with your bloop suit on. But of course, we welcome you to be creative and come up with your own set of games!
Bloop Bubble Soccer (Duration: 1 hour)

Bloop Mini Games (Duration: Play an average of 4 games in 1 hour)
1. Bloop Bowling (requires add on Zovb package)
With 2 teams competing in this exciting game, one team will be the 'bowling ball' (ZOVB BALL), while the other team will become the pins in Bloop suits! Participants in the first team will get into the ball sequentially and try to knock down the 'pins', which are the opponents in the second team. Both teams will get a chance to be the 'bowling ball' and also the 'pins'. The aim is to score as many points as possible in the stated frames. The team with the most score wins!
2. Bloop Invasion
Players will be split into 2 teams with each team allocated a 'house'. Teams will be given 30 seconds to strategize how to invade their opponent's 'house'. Players will then attempt to invade and take over opposing team's 'house' along with their team members. Teams who score the most points out of 5 rounds will be the winner for the game.
3. Royal Rumble
Similar to WWE (World Wrestling Entertainment), players will enter the ring at every interval to battle out for the last man standing to win the crown title.
4. Clash of the Planets
BLOOPers will push another bloop ball around. 2 Teams will be pitting their guts and wits against one another. All this will happen within an arena.
5. Sumo & Sushi
Almost like the old school favourite Dog and Bone game. Players from each team (the Sumos) will be given a number. Once their number is called, they'll run to the middle and try to steal the sushi back to their team without getting caught!
6. Poison Ball
One team will be the 'poison balls' forming their own formation along a designated zone. The other team will need to analyze the formation, strategize, and dashed through the poison field! But watch out! Once touched or 'poisoned' by the 'poison ball', attackers will need to restart the from the baseline.
7. Dodge the Sumo
A simple straightforward game where 2 players must enter into a ring in their BLOOP bubble suit. Each player will try to force the other party out of the ring in order to win.