Latest Promotion – Special Deals for School Groups in March Holiday!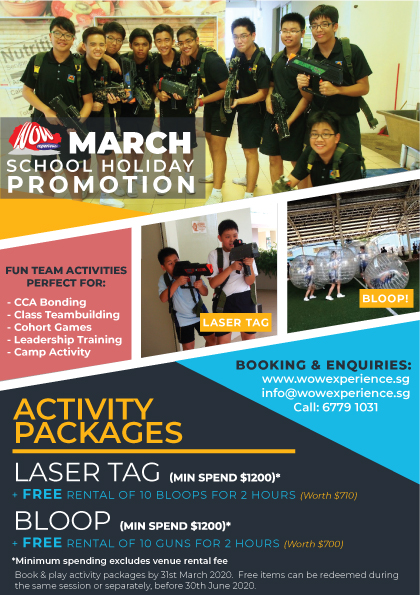 Check out our special promotion for school groups in March 2020! Book your Laser Tag or Bubble Bloop session with us and get a FREE additional session of a different activity from us! As long as you meet the minimum spending of $1,200 and book with us by 31 March 2020, you can choose to redeem your FREE laser tag session or FREE Bloop Soccer session with on the same occasion or by end of June 2020.
This offer is best suited for CCA get-together, school training, camp activities or orientation programs in your school. We are mobile and we can bring the game to your school compound at no additional cost! Choose to play the games in the day or night at your preferred timing. Excellent for teachers or uniformed group leaders who need to plan for activities in March and June Holidays since the FREE activity can be redeemed by end of June 2020! Moreover this is not just senseless play but your students are able to learn important values like leadership, team work, resilience, communications and many more.
Don't miss this special wonderful offer that helps you to save money and stretch your dollar. Most importantly, your students get the best of both worlds in the lowest price possible for Bubble Bump Bloops and Laser Tag Sessions at in one location. Enquire with us NOW before promotion ends!
Your Chance to try ZOVB & Laser Clay every Wednesday / Sunday!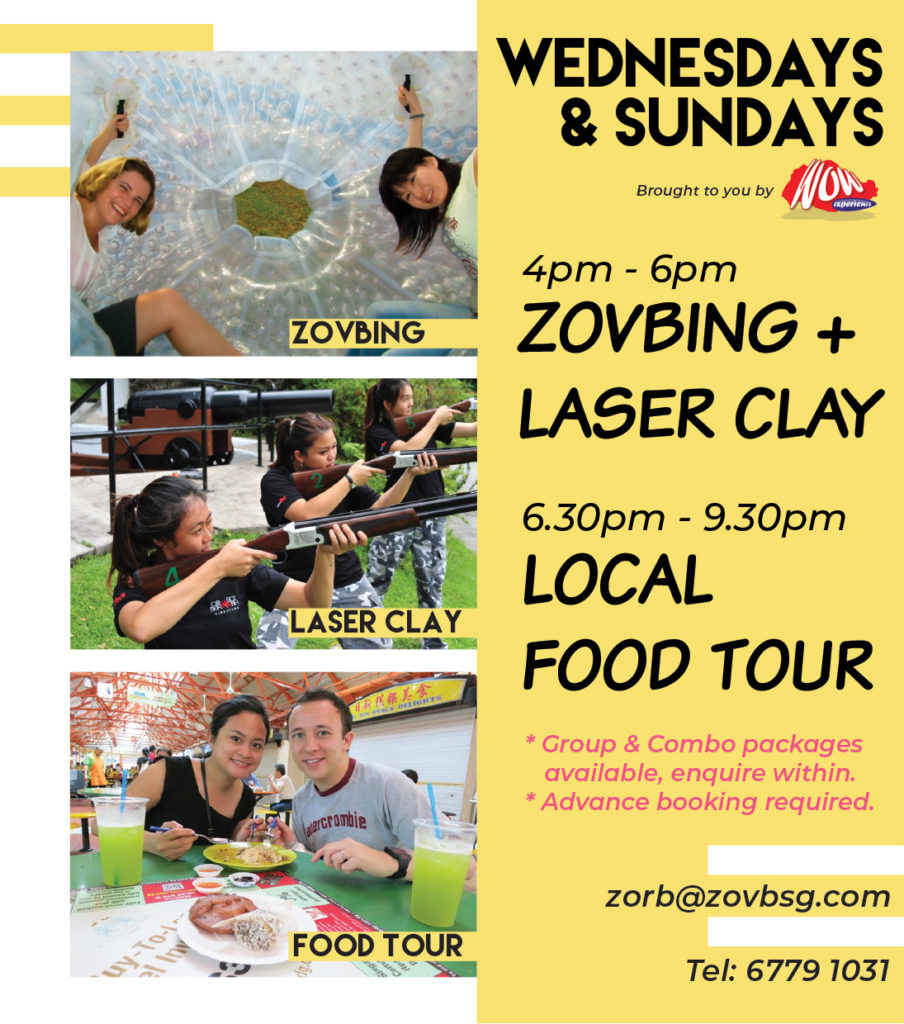 Pre-Book your next ZOVB adventure with us! Every Wednesday and Sunday (subjected to pre-booking), we run Land ZOVB and Laser Clay sessions at the large field in Old Holland Road for the public from 4pm to 6pm! These activities are perfect for groups and family gatherings. Explore all the places to go and things to do in Singapore with us by joining the Local Food Tour after the workout at Old Holland Road!
Not only that, you can also enjoy activity combos if you take up more activities within the same time period or to follow on to our Local Food Tour to enjoy the treats that Singapore heartland offers! Probably one of the best ways to experience Singapore through sports activities and cuisine!
We have special crafted packages for those who like good deals!
1) Sign up in pairs and pay $50 per pax for 2 roll downs
2) Sign up in groups of 4 and pay only for 3 pax, that's $150 for the whole group!
3) Combine Laser Clay and ZOVB Activities and get entertained for 1.5hr (since it's at the same location and get to do more things) for 2 pax for just $90 each! (usual price $119 per pax)
4) Take up Option 3 and follow on to discover the best of our local food for only $180 per pax (minimum sign up of 2 pax).
Check out our latest promotions right here!