Are you throwing a pool party? We've got just the perfect activity to spice up your party! Our Water ZOVB balls have been the main highlight of many pool parties, have a splashing good time walking on water and even racing your friends the length of the pool!
Walking on water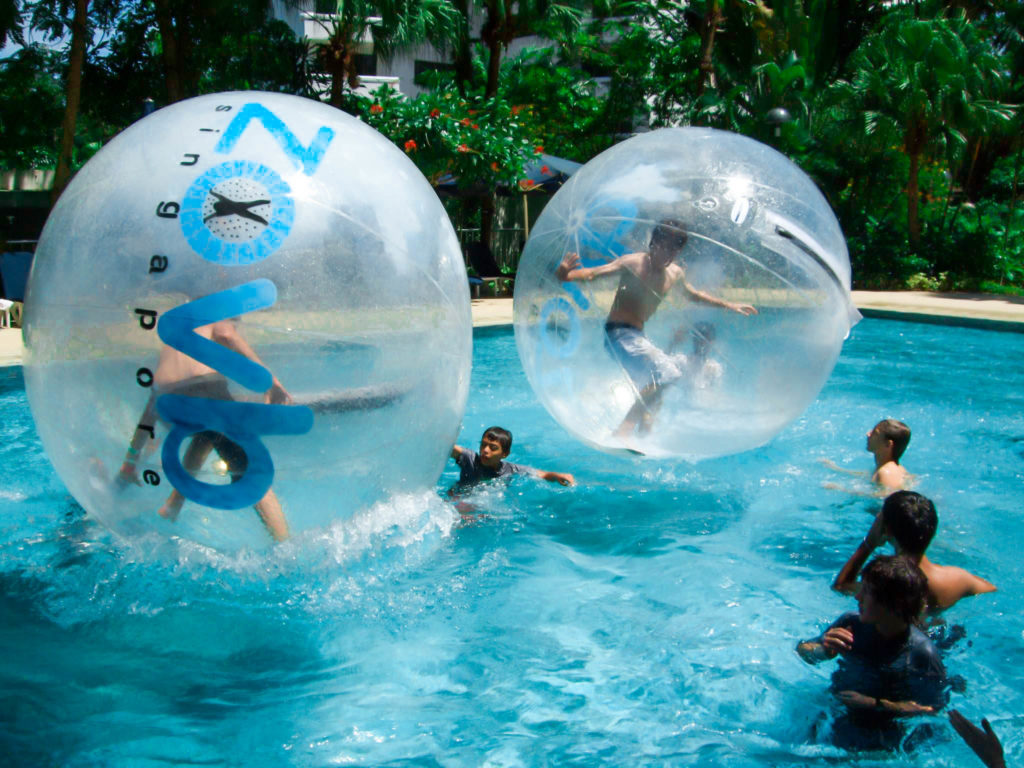 If you've always wanted to know what it feels like to walk on water – here's your chance to be a 'ZOVBonaut'! First, you'll enter the deflated ZOVB ball, then we'll zip it up and pump the Water ZOVB balls up! Now the ZOVBonaut can walk around freely in the air-filled ball – on water! Each experience lasts about 10 minutes, then you'll need to come out for a breather. Our Water ZOVB walking on water experience is perfect for private pool parties in homes/condos!
Hamster Race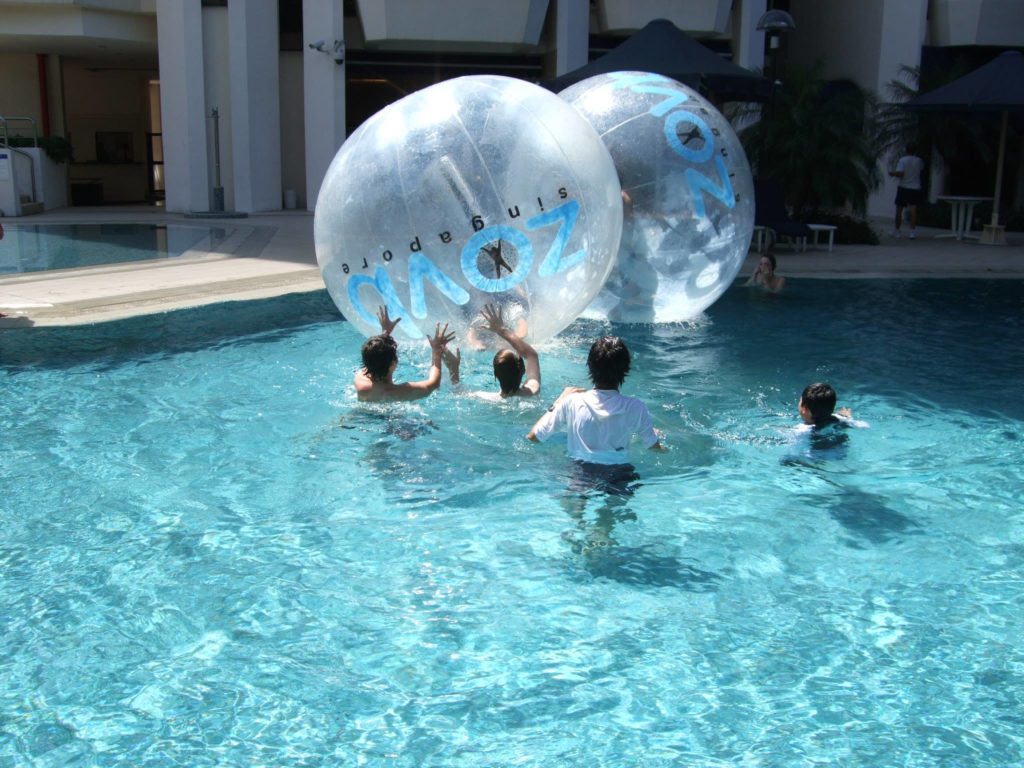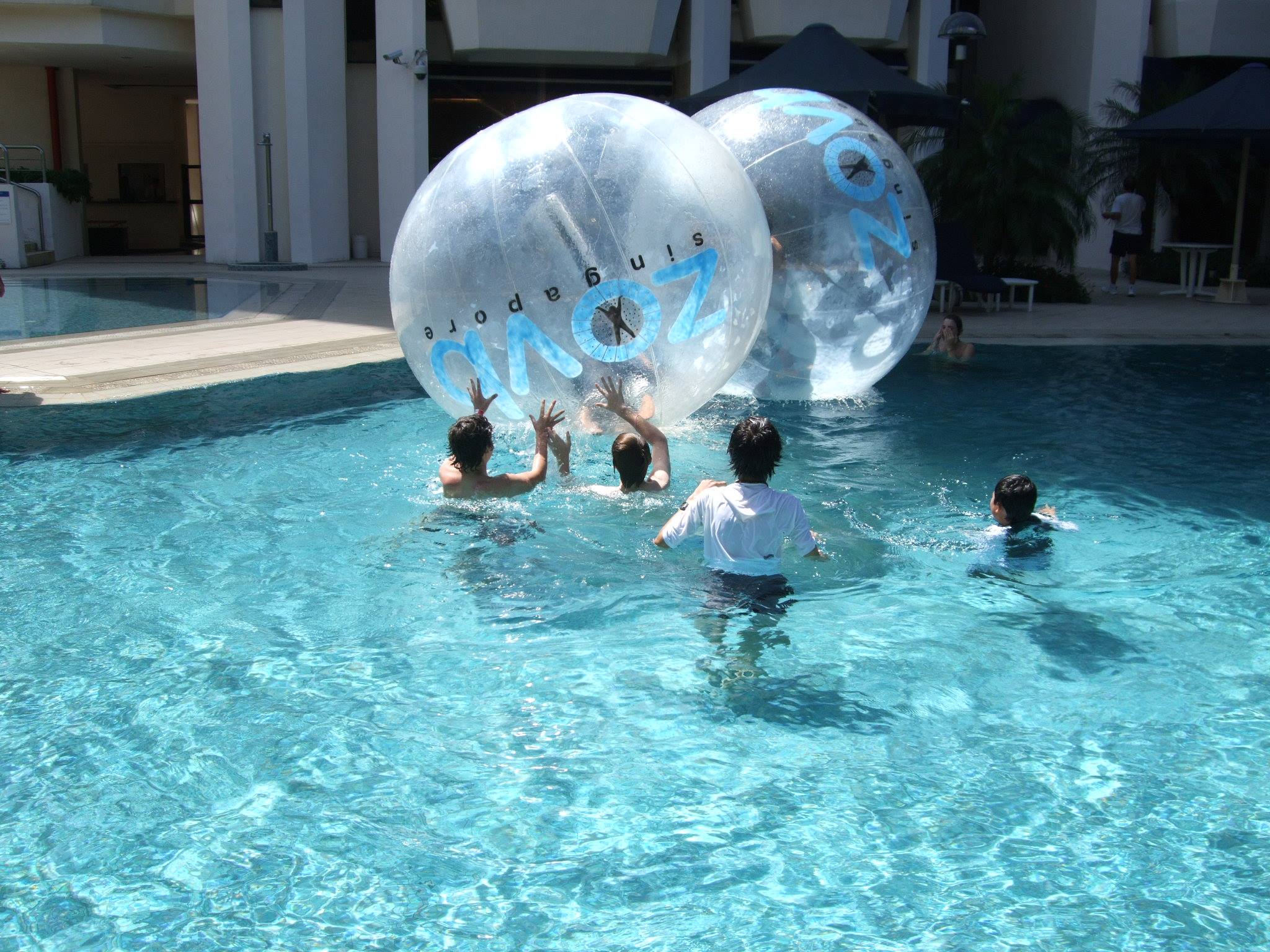 Race your friends in a giant plastic floating ball on water! This is definitely going to be the highlight of your next birthday party! Get inside our Water ZOVB balls and get ready for a heart-pumping hamster race!

Water Tag add-on
Have you heard of paint ball and laser tag? Well, Water Tag is their fellow cousin, just add water and a whole lot of wild and wet fun! Water tag provides an avenue for great fun, adrenaline-pumping excitement, and a quick cool off on a hot day. The game plays out like laser tag – just that you shoot water instead of laser beams! Water Tag makes a perfect add-on for any pool party and can be played at any open area with an accessible water point.
Equipment:
You'll be equipped with our Water Tag vest, launcher and safety goggles
Equipment Specification:
Stream Machines clock up to 70 feet shooting range
Easy to read gauge registers the amount of water in your vest
Recommended for kids ages 8 and up
Teams are differentiated in Red and Blue
Vests have adjustable straps for easy fitting
Gameplay:
Spray your opponents' vest with water. Once the indicator reaches the top, they're out! Eliminate the opposing team and you win!
Safety Warning:
Before playing any water games, make sure you are familiar with the rules of each game. Some players may not like being sprayed with water or enjoy tossing water balloons. If this is the case, they can still participate by being a judge or keeping score on the sidelines, away from the water. Also, be sure there is plenty of waterproof sunscreen to go around. Other than that, whip out the swimsuits and get ready to make a splash!
Perfect for:
Should you require a simple mini-game to entertain your guests, Water Tag acts as a great add-on to fill up your birthday party needs, sports carnivals, fund raising events, and even simple gatherings. Having an upcoming BBQ party and afraid that your guests might get too bored while waiting for the food? Water tag is your answer!
Game Rules:
Safety is our number one rule!
No physical contact
No assaulting with the equipment
Players should not attempt to release the water from their vests without being told
Just have fun!