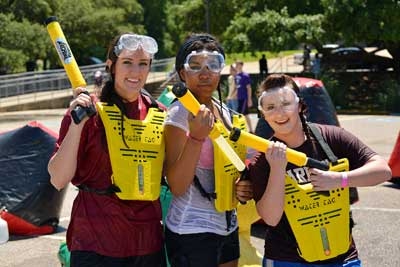 What is Water Tag?
Remember the days where paintball was the 'in-activitiy' that everyone was going crazy about? Then came the integration of modern technology which birth the idea of laser tag! While looking forward into other unique and cheaper alternatives to laser tag, we bring to you WATER TAG! Water tag provides an avenue for great fun, adrenaline-pumping excitement, and a quick cool off on a hot day. The game plays out like laser tag; just that you shoot water instead of laser beams! Our mobile water tag team is here to provide instant fun. All you've got to do is to add water!
Arena:
Any open area with an accessible water point will do!
Equipment:
You'll be equip with our Water Tag vest, launcher, and safety goggles
Equipment Specification
Stream Machines clock up to 70 feet shooting range
Easy to read gauge registers the amount of water in your vest
Recommended for kids ages 8 and up
Teams are differentiated in Red and Blue
Vests have adjustable straps for easy fitting
Gameplay:
Your objective is to spray your opponent's vest with water. Once the indicator reaches the top, they're out! Eliminate the opposing team and you win!
Safety Warning
Some players may not like being sprayed with water or enjoy getting wet from water balloons. Do check everyone's comfort level before the game starts. For those who prefer to stay dry, they can still participate by being the referee and keeping score on the sidelines, away from the water. Also, don't forget to use plenty of waterproof sunscreen! Other than that, whip out your swimsuits and get ready to make a splash!
When:
Should you require a simple mini-game to entertain your guests, Water Tag acts as a great add-on to fill up your birthday party needs, sports carnivals, fund raising events, and even simple gatherings. Having an upcoming BBQ party and afraid that your guests might get too bored while waiting for the food? Water tag is your answer!
Game Rules:
Safety is our number one rule!
No physical contact
No assaulting with the equipment
Players should not attempt to release the water from their vests without being told
Just have fun!
Please adhere to the rules at all times!